noCRM is a lead management and sales pipeline platform useful for small and medium-sized businesses that do not need the quirks of full-fledged CRMs. noCRM theorizes that standard CRMs reduce the productivity of salespeople by overwhelming them with unneeded information and paperwork. noCRM provides a simple pipeline-based interface where once deals are captured, they are moved from one stage to another as they progress through the sales cycle.

While noCRM already gives you an option to source leads directly from the lead acquisition sources, you should move leads through Salespanel if you want to only have salespeople deal with marketing qualified leads or need prospect behavior and other lead data attributes inside noCRM's application.
To sum up, here's what you can do with Salespanel on noCRM:
Capture leads from any lead acquisition channel without integration and send the leads to your noCRM pipeline.
Create deals for only marketing qualified leads or sales-ready leads on noCRM.
Identify anonymously visiting companies from your website and send qualified accounts to sales.
Bring lead score, quality score, and behavioral data to your sales team inside noCRM. Your sales team will not only know lead motivation better, they will also know when leads show buying intent.
noCRM integrates with Salespanel using Zapier.

Open Workflow Automation settings from the Plugins & Integrations section on your Salespanel dashboard and follow through the Zapier setup process. If you don't already have a Zapier account, you will need to create one. Creating your Zapier account is a really easy process and can be completed in minutes. You can also create the Zap directly from Zapier's website itself.

During the setup process, you will be provided four main trigger options for Salespanel:

Lead Identified: This will export all individual contacts from your Salespanel account when they are captured.
Visiting Company Identified: This trigger will create Organizations on your Hubspot account when a company is identified on your website.
Lead/Visiting Company is Qualified for a Segment: Use this option to export individual contacts/organizations who are found qualified based on ICP alignment, segments, and lead score.
Lead Score Updated: This trigger will update lead score in real-time on Hubspot.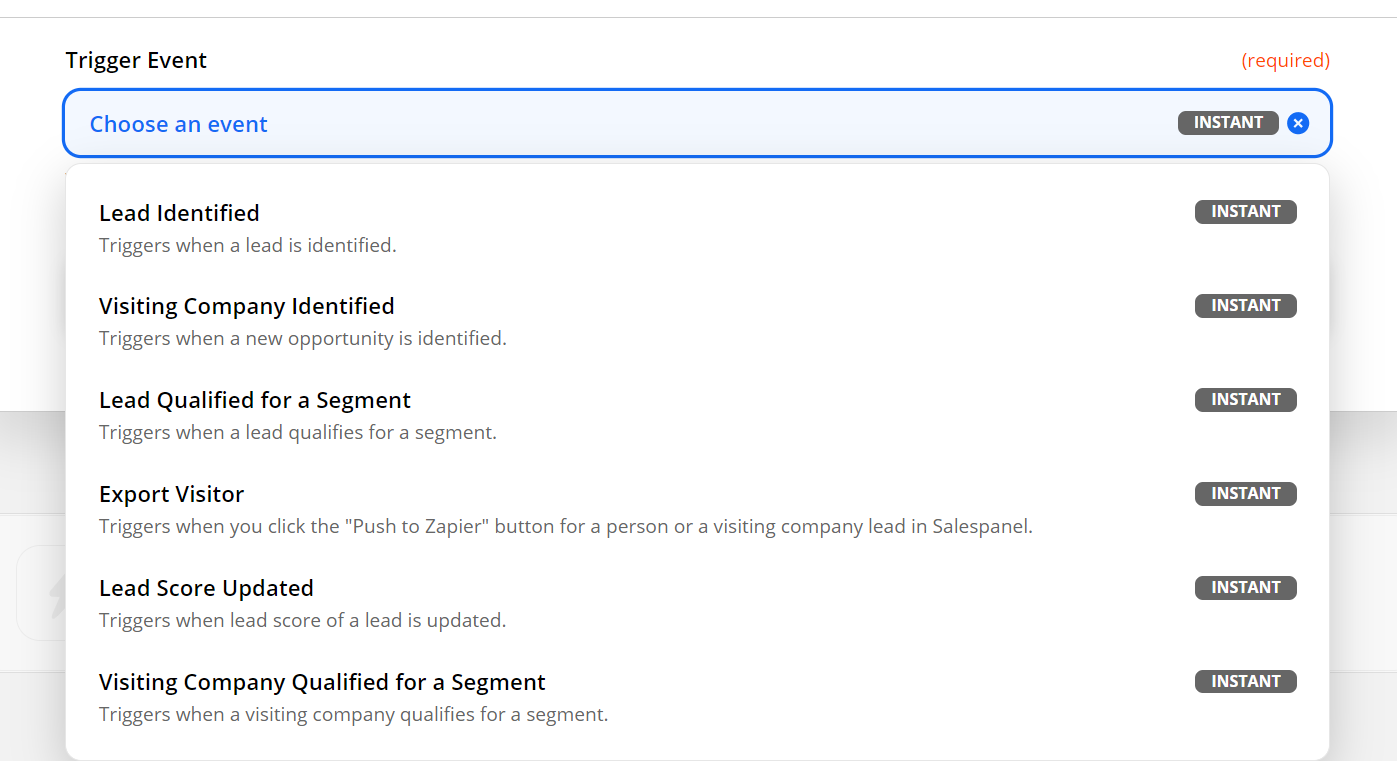 Complete the rest of the steps and move to choosing the Action for the recipient software that is noCRM.
These are the options you can choose from:

Create Lead: Creates a lead on noCRM.
Log an Activity/Add Comment: These two options can be used to sync activity data as comments/activity on noCRM. You need the Expert Edition on noCRM to log an activity.
Set Amount and Probability: Set value of lead. You can use this to sync lead score or quality score if needed.

These options should be enough for you to sync Salespanel data to noCRM. If you need any help, let us know.