Salespanel Segments helps you to focus on a specific set of visitors. You can create a Segment of visitors by providing geographical, behavioral filters, UTM parameter and CRM based filters. If you have set up segments in Salespanel that are important for your business, you would definitely be interested in learning about the overall behavior and characteristics of these visitors and join the dots. This is where Segment level reporting becomes useful.
Segment level reporting is accessible from the detail view of any Segment and is located at the top-right corner. Here is an example.

Every information available on global reports is also available on Segment level reports. That means you can find out where you are acquiring these visitors from and identify the best acquisition channels. You can also learn about the most visited web pages, most performed activities, and tags these visitors have.
Here is an example of metrics for a Segment. As you can see, it provides you with an opportunity to compare metrics from this segment with global numbers. So, let's say I am interested in learning about visitors landing from organic and direct sources. In this example below, you can see 42.21% of all new visitors for the selected date range are in this Segment and the conversion rate of this Segment is 2.62%.

However, the average conversion of lead acquisition is 4.06% as we can see from the "New visitors" row which means this Segment has a below-average conversion and we can work on improving it.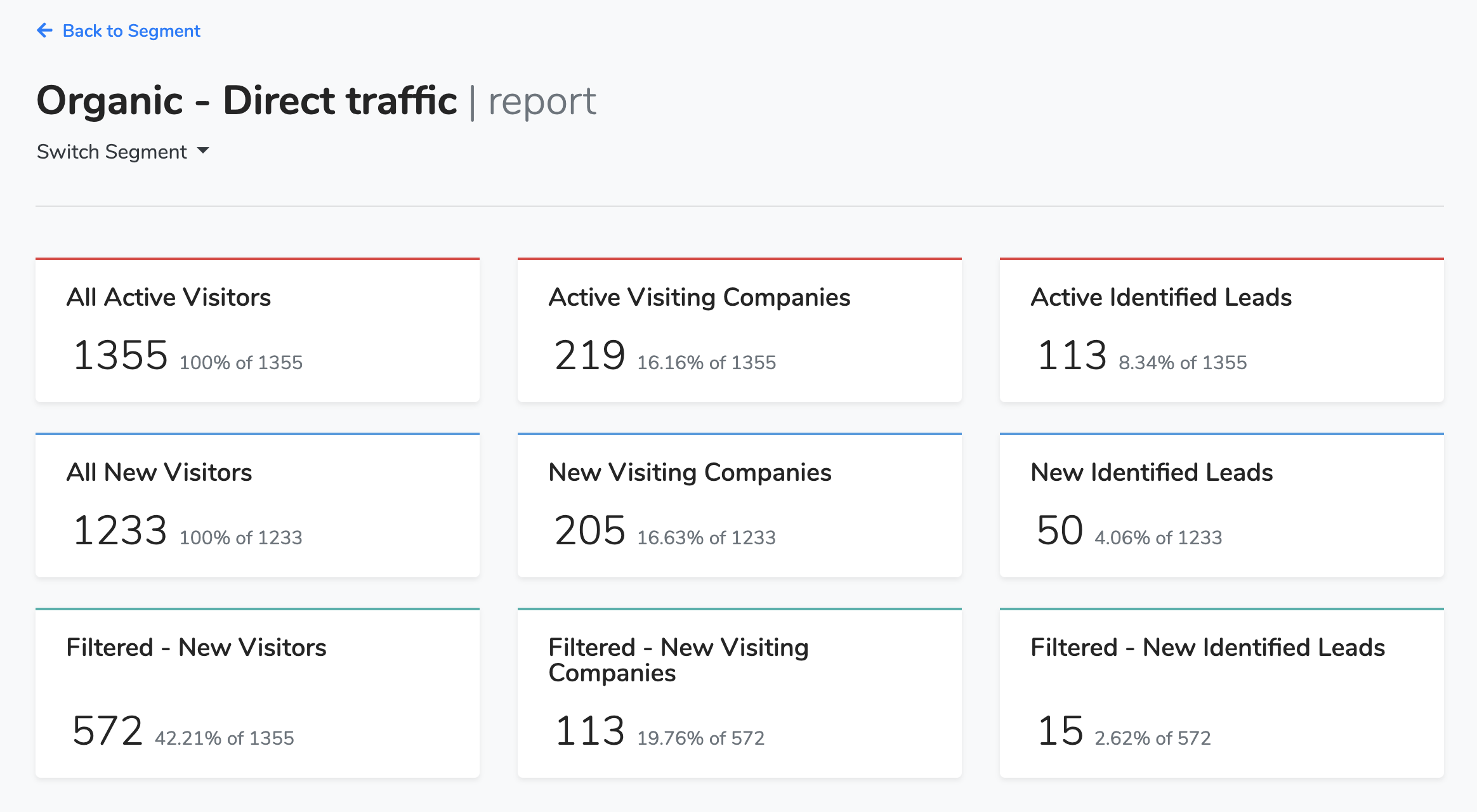 Salespanel Segments are powerful. You can combine custom events/activities, lead scoring, automated tags, and CRM data with Segments. It provides an opportunity for you to combine data from different verticals and helps you understand what's happening overall with qualified leads and visitors. The more powerful your Segments are, the more opportunities you will have to make sense of data with clean reports from Salespanel.


Let us know if you need more help with this.