In a surprising move, Google Analytics is taking away first-touch attribution from its offerings, leaving marketers scrambling for alternatives to understand the beginning of their customer journeys accurately. This change raises questions about the reasons behind Google's decision and the implications for businesses relying on this critical metric.

As marketers search for better options, Salespanel.io emerges as a powerful solution, providing precise first touch and last touch points for every customer journey, specifically tailored for B2B marketing.


The Importance of First Touch Attribution
First touch and Last touch attribution data plays a vital role in data-driven marketing by revealing which marketing channels and campaigns initially attracted potential customers. This information enables marketers to allocate their resources and budget effectively, optimize their content strategy, and gain a comprehensive understanding of the customer journey when combined with other attribution models. As Google Analytics removes this essential metric, businesses must seek alternative solutions to maintain the accuracy and effectiveness of their marketing strategies.


Salespanel.io offers a robust solution for businesses seeking to replace Google Analytics' first touch attribution capabilities, with features specifically designed for B2B customer journey tracking:
Visitor-level analytics: Salespanel.io's visitor-level analytics provide in-depth insights into individual user behavior, enabling marketers to track and analyze the customer journey from the first interaction to conversion.

Long-term tracking: Unlike Google Analytics, Salespanel.io offers long-term tracking, allowing businesses to monitor first-touch attribution for extended customer journeys accurately.

Integration with marketing tools: Salespanel.io seamlessly integrates with various marketing tools, enabling marketers to access first touch and last touch attribution data within their existing workflow.

Compliance with privacy regulations: Salespanel.io ensures data privacy by obtaining user consent before tracking and adhering to privacy regulations such as GDPR and CCPA.
How to Export First Touch and Last Touch Attribution Fields from Your Salespanel.io Dashboard
Step 1: Sign in to your Salespanel.io account Log in to your Salespanel.io account to access your dashboard and visitor data.
Step 2: Locate the Export button On your dashboard, locate the Export button on the top right side of the page. This button allows you to download various data points related to your visitors and leads.
Step 3: Click on the Export button and choose "Advanced Export" Click on the Export button and select the "Advanced Export" option from the dropdown menu. This will open a new window with various export options and data fields.
Step 4: Find the Attribution Fields In the "Advanced Export" window, scroll down to the "Attribution Fields" section. Here, you'll find various fields related to first touch and last touch attribution, including Landing Page, Landing Page Source, Landing Page Medium, First Touch UTM Parameters, Last Touch Source, Last Touch Medium, and Last Touch UTM Parameters.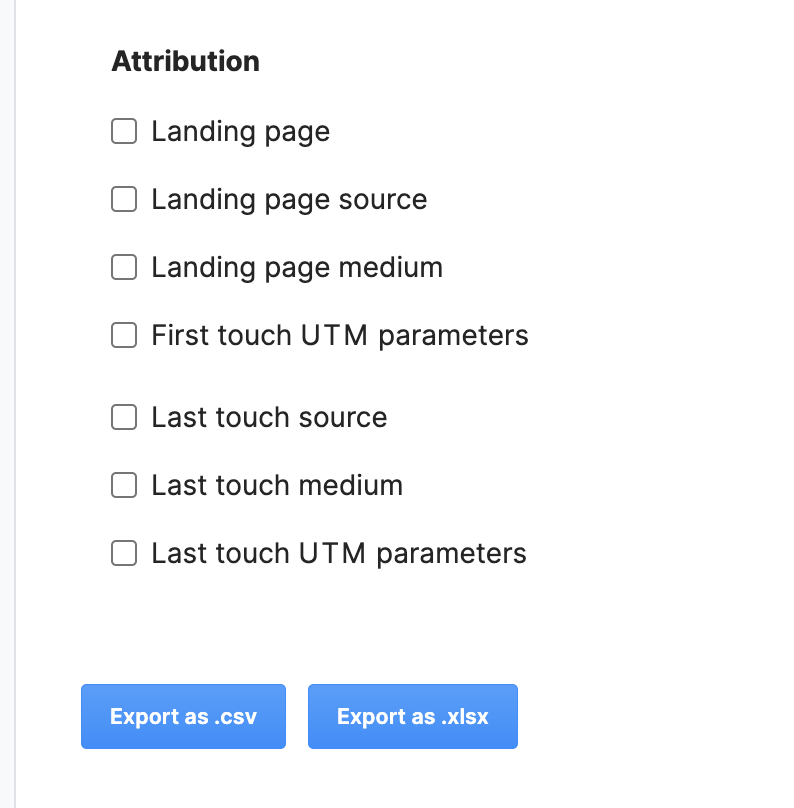 Step 5: Select the desired Attribution Fields To export first touch attribution data, select the following fields:
Landing Page Source
Landing Page Medium
To export last touch attribution data, select the following fields:
Last Touch Source
Last Touch Medium
For additional information, such as specific UTM parameters associated with the first and last touchpoints, you can also select First Touch UTM Parameters and Last Touch UTM Parameters.
Step 6: Complete the export process Once you've selected the desired attribution fields, click the "Export" button at the bottom of the "Advanced Export" window. Salespanel.io will generate a CSV file containing the selected data, which you can download and analyze using your preferred data analysis tools.
By following this simple tutorial, you can easily export first touch and last touch attribution fields from your Salespanel.io dashboard, providing valuable insights into your customer journey tracking and optimizing your marketing strategies.
Please let us know if you need more help with this.