Salespanel not only plugs into your Salesforce ecosystem for data sync but also helps you automate any workflow involving Salesforce and Salespanel. And, for that, it is not limited to automation between the two products only. If you want to trigger an automated workflow between Salespanel and Salesforce during a particular instance, you can also trigger a parallel automation to another product. Example: When a visitor submits a lead form on your landing page, Salespanel creates a contact on Salesforce and also triggers welcome email automation on your email marketing software.
Here are some commonly used workflows you can try out:
Create records of leads or add them to campaigns when they get added to a segment on Salespanel or cross a desired lead score threshold.
Add companies who visit your website anonymously and have matched your customer profile as ABM Opportunities to pursue.
Notify sales when a lead is deemed marketing qualified and also update Salesforce records to reflect the same.
Automatically add leads to targeted campaigns when they perform specific actions or have specific characteristics.
Update records with Lead Score updates in real-time and trigger actions when leads cross a threshold.
Add leads to personalized retargeting campaigns on social media or Google Ads while also updating Salesforce records to reflect the same information.
We have discussed what the Salesforce Integration built by Salespanel can do in our other support articles. In this article, we will talk about how you can set up custom workflows using Zapier.
For those who are unfamiliar, Zapier is a workflow automation software that helps you create workflows between two or more tools, provided these tools support Zapier. The most commonly used products in the market– including Salesforce and Salespanel support Zapier. You can automate 100 tasks for free every month with paid plans starting at $19.99 for 750 tasks.

To get started, you will have to open Workflow Automation settings from the Plugins & Integrations section on your Salespanel dashboard and follow the Zapier setup process. If you don't already have a Zapier account, you will need to create one. Creating your Zapier account is a really easy process that can be completed in minutes. Alternatively, you can directly search for Salespanel on Zapier.

There are six triggers available for Zapier. These triggers are available for both Leads and Visiting Companies. A Lead is a person who has been captured from your website or email campaigns. A Visiting Company is a company that has not signed up or provided contact information but has been identified from your website.
These triggers are:
Lead Identified: This will export all individual contacts from your Salespanel account when they are captured.
Visiting Company Identified: This trigger will create Organizations on your Hubspot account when a company is identified on your website.
Lead is Qualified for a Segment: Use this option to export individual contacts who are qualified based on ICP alignment, segments, and lead score.
Visiting Company is Qualified for a Segment: Use this option to export organizations identified from your website who are found qualified based on ICP alignment, segments, and lead score.
Lead Score Updated: This trigger will update the lead score in real-time on Salesforce.
Export Visitor: Triggers export and sync functionality for a visitor manually.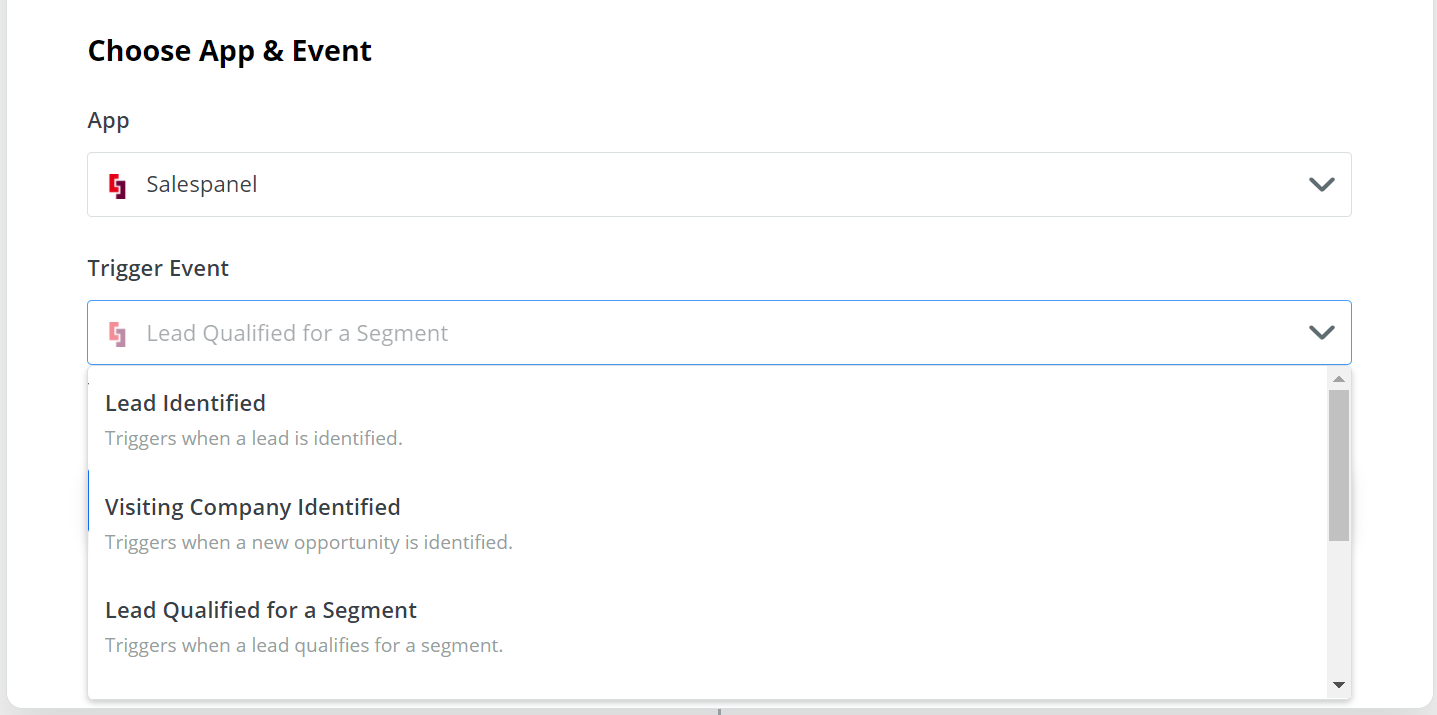 Follow through the process and you will be taken to the next step where you have to set up the Action. These will be your options:

Create a Record: A Record can be a Lead, an Opportunity, or a Contact. This option will be useful if you want to transfer a contact from Salespanel to Salesforce. Do select the type of contact you want to create. Ideally, you would create a Lead for an individual and an Opportunity for a company.
You can choose to add a lead/opportunity as soon as it is captured or later when it is deemed qualified by your segmentation and lead scoring system. You can also send identified companies to Salesforce. Use this action to fill your sales pipeline with leads who are ready for the sales conversation.
Add a Lead to a Campaign / Add a Contact to a Campaign: You can run various sales and marketing campaigns and automation systems from Salesforce. If you want to add contacts from Salespanel directly to a campaign, you should choose one of these actions. Salesforce will add the contact as a Lead or a Contact based on the option you select.
Update Record: This action will update an existing record. For example, let's say, you want to push new information from Salespanel to Salesforce. You would need to use this option to complete it.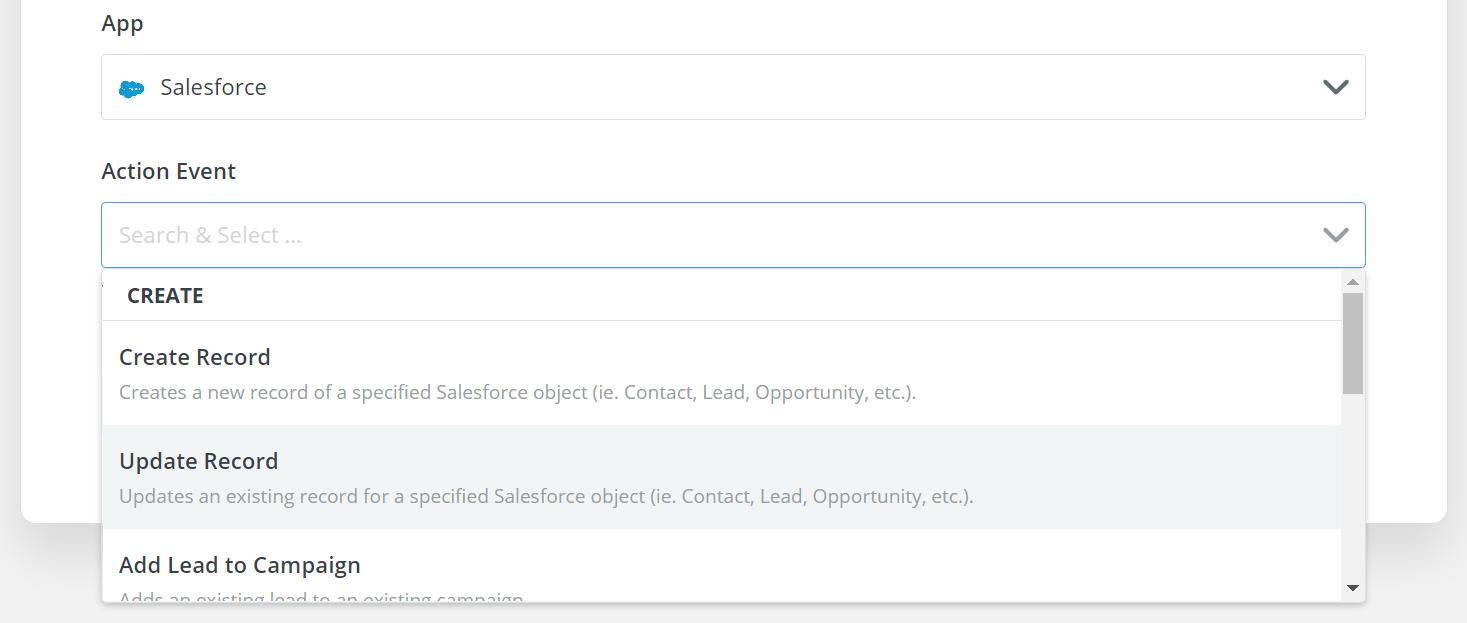 Map the data correctly and complete the setup. Your workflow will be activated instantly.
Please let us know if you have any questions or need any help.