In the realm of digital marketing and sales, understanding and categorizing your audience is crucial for achieving targeted outreach and efficient resource allocation. Different visitors interact with your website in unique ways, and these interactions provide valuable insights about their interests, needs, and position in the sales funnel. However, manually monitoring and categorizing each visitor based on their behavior can be time-consuming and impractical, especially when dealing with a large volume of traffic.
This is where tagging selected or qualified visitors comes in handy. By setting up automated tagging in Salespanel.io, you can categorize your visitors based on specific criteria, such as the number of page views, the forms they've submitted, or even the specific pages they've visited. This automation removes the need for manual oversight and ensures that all relevant visitors are appropriately tagged and easily identifiable.
With this feature, you can create more targeted marketing campaigns, personalize your communication, and ensure that your sales and marketing efforts are directed where they'll have the most impact. Ultimately, automated tagging helps streamline your sales and marketing processes, making your strategies more efficient and effective.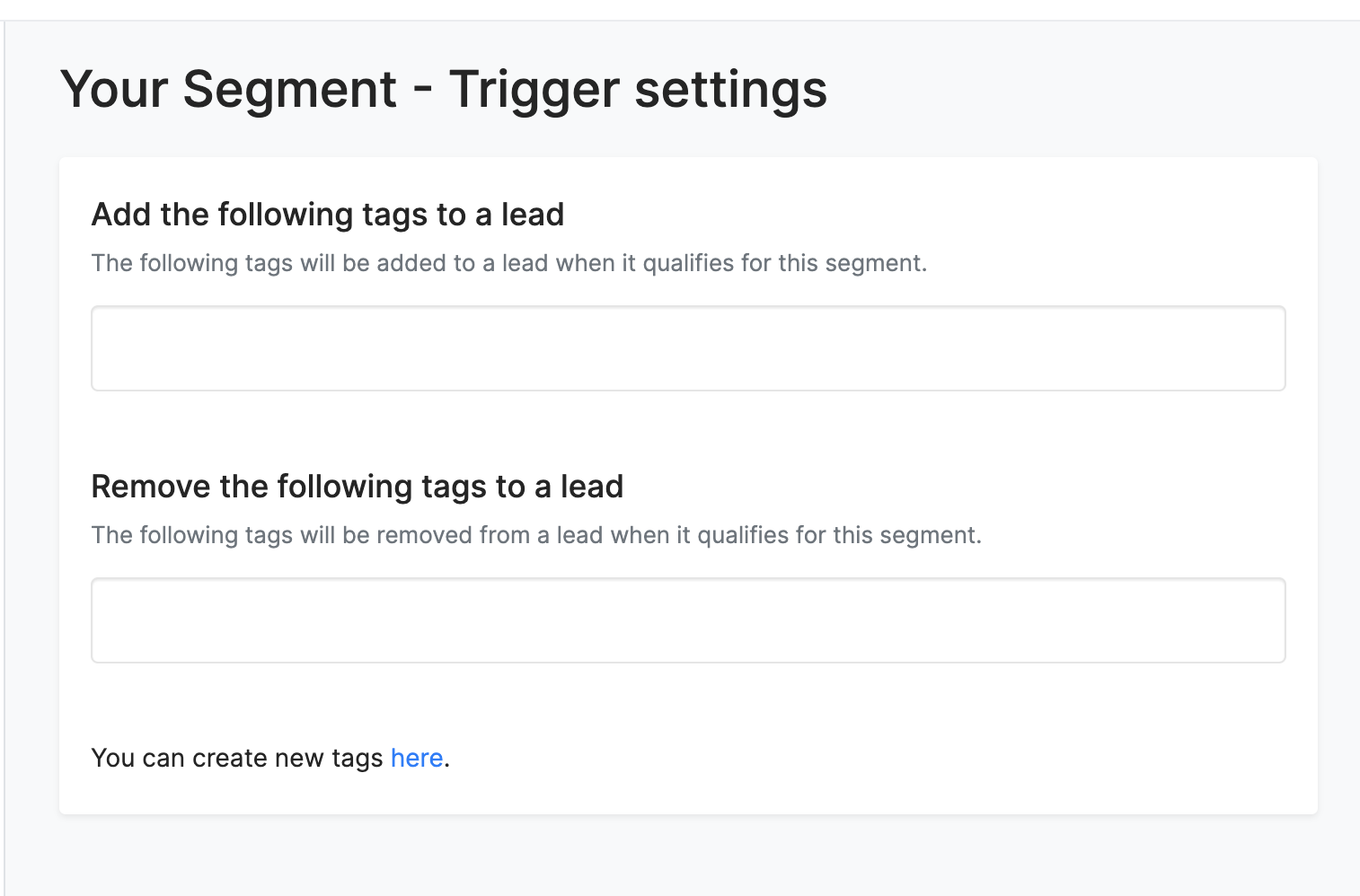 Step 1: Create a Segment
Click on "Create a Segment" on your dashboard.
In the new segment, set your selection criteria based on your needs. For instance, you might want to select visitors from a particular website, or you might want to select visitors based on the minimum number of page views, web sessions, or if they have submitted a form on a particular URL. To do this, simply provide a section or portion of the URL.
Step 2: Set Criteria Example
For the purpose of this guide, let's assume that you want to tag all identified leads from a specific website. Here's how you can set it up:
Choose the website from the 'Visited Website' Segment filter.
Choose Identified Leads' from the 'Visitor Type' filter.
Review your segment criteria. If everything looks fine, save the segment. For this example, let's call it "Auto Tagging Example".
Step 3: Set Triggers
Triggers are actions that get applied to visitors or leads who qualify for a particular segment.
At the end of the segment creation wizard, you'll find the 'Triggers' section.
Here, you'll want to select the option to apply a particular tag to your segment.
Step 4: Create and Apply Tags
If the tag you want to apply isn't available, you can create a new one:
Go to the 'Tag Management' screen.
Click 'Create New Tag' and enter your desired tag name (e.g., 'Website 1').
Return to your 'Triggers' section, select the tag you just created, and click 'Save'.
Now, whenever a new visitor qualifies for this segment, they'll be automatically tagged.
Step 5: Review Tagged Visitors
After setting up your segment and triggers:
In your dashboard, you'll see an icon indicating that a visitor has been tagged.
When you click on a tagged visitor to see more details, you'll see the applied tag label.
And that's it! You've set up automatic tagging for qualified visitors based on your criteria. If you encounter any issues while setting up this workflow, don't hesitate to reach out for assistance.