Integrating Salespanel with Salesforce will help you send leads and customers tracked by Salespanel directly into your Salesforce account. You can also send identified anonymously visiting companies to your Salesforce CRM for follow-ups. Salespanel can be integrated with Salesforce using Zapier.
Open Workflow Automation settings from the Plugins & Integrations section on your Salespanel dashboard and follow through the Zapier setup process. If you don't already have a Zapier account, you will need to create one. Creating your Zapier account is a really easy process that can be completed in minutes.
During the setup process, you will be provided four main trigger options for Salespanel:
Contact Identified: This will export all individual contacts from your Salespanel account when they are captured.
Visiting Company Identified: This trigger will create Organizations on your Hubspot account when a company is identified on your website.
Contact is Qualified for a Feed: Use this option to export individual contacts/organizations who are found qualified based on ICP alignment, segments and lead score.
Lead Score Updated: This trigger will update lead score in real-time on Salesforce.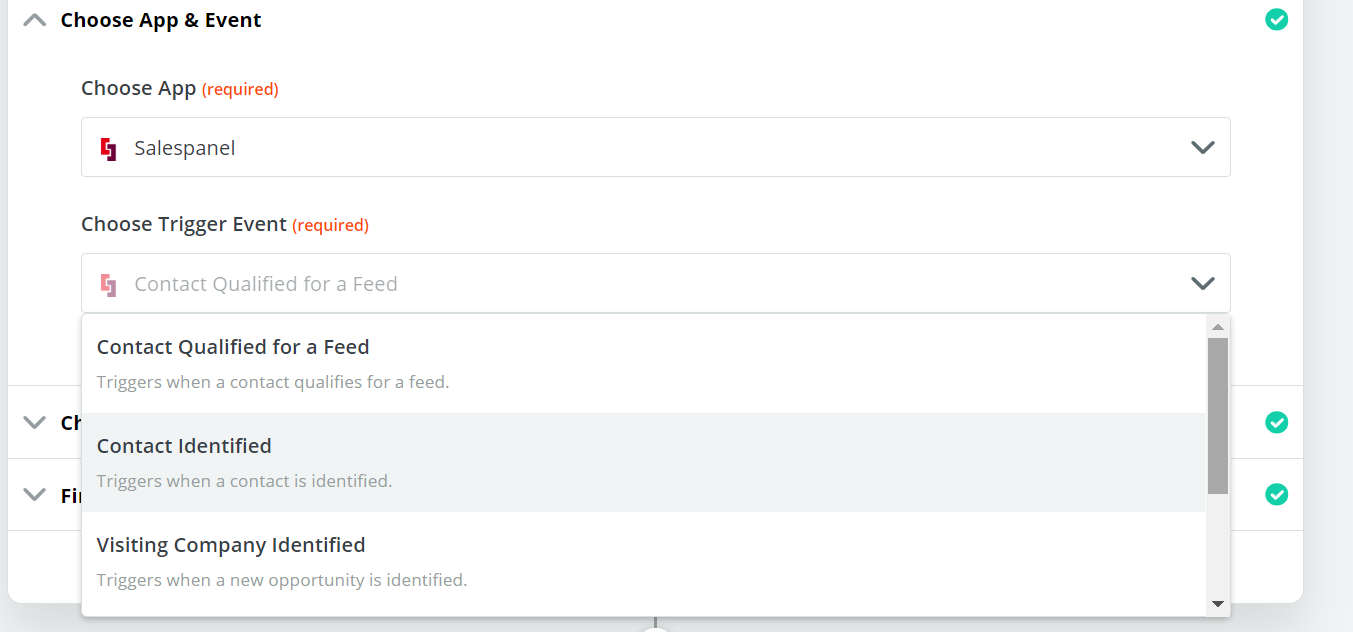 Follow through the process and you will be taken to the next step where you have to set up the Action. Search for Salesforce (Legacy). These will be your main options:
Create a Lead: Based on the selected criteria, Salespanel would create a lead on your Salesforce account. You can choose to add a lead as soon as it is captured or when it is deemed qualified by your segmentation and lead scoring system. You can also send identified companies to Salesforce. Use this action to fill your sales pipeline with leads who are ready for the sales conversation.
Create a Contact: A contact is a person that either be an account or a lead. The action will be similar to the Create a Lead action. This option will be useful if you want to transfer a contact to Salesforce and decide later if you want to treat it as a customer or an opportunity. For example, if existing customers are tracked on your Salespanel account, you should create a contact instead of creating a lead.
Add a Lead to a Campaign / Add a Contact to a Campaign: You can run various sales and marketing campaigns and automation systems from Salesforce. If you want to add contacts from Salespanel directly to a campaign, you should choose one of these actions. Salesforce will add the contact as a Lead or a Contact based on the option you select.
Map the data correctly and complete the setup. Your integration will be activated instantly. You can also use new Salesforce app instead of Salesforce (Legacy). These are the actions available for the new app:
Please let us know if you have any questions or need any help.