Salespanel provides a two-way real-time data sync system with Pipedrive that can be set up in just a few clicks. Salespanel's Pipedrive integration creates a seamless data sync process where leads and their data are synced to your Pipedrive account and data from Pipedrive is brought back to Salespanel for powerful segmentation and marketing optimization.
Here are some use cases that are completed by Salespanel's Pipedrive integration:
Sync all inbound leads and their data to Pipedrive in real time.
Update lead score, lead temperature, and contact activity in real time.
Add companies that are detected from your website as organizations.
Segment and qualify your contacts.
Bring Pipedrive data back to marketing for further segmentation, automation, and marketing optimizations.
Installation
To set up the integration, visit the Salespanel app listing on the Pipedrive marketplace while logged in and click on Install Now. Follow through the process and the real-time sync will start immediately.
Configurations
Once set up, we would recommend you take a look at the integration settings and make any changes if required. Configurations related to creating new contacts, updating existing contacts, setting default contact owners, and changing two-way sync settings are available here.
App Panel
On Pipedrive, it would be a good idea to set up Salespanel App Panel within contacts. The App Panel is a widget to get real-time data like lead score, lead temperature, last activity, etc that can be refreshed at any time. To enable the App Panel, open a deal or a contact on Pipedrive and click on Activate App Panel.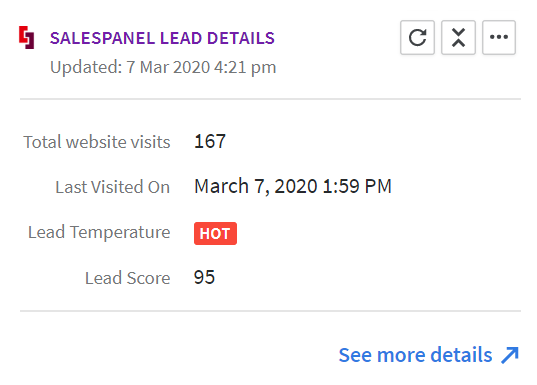 Workflows and Customizations
You can also set up custom workflows like creating deals when leads are marketing qualified or triggering two simultaneous actions using two-way synced data. For this, you will have to use Zapier or Salespanel API. For help, please check out the Zapier integration section and Salespanel API section on our helpdesk.
Feel free to get in touch with us if you need any help.